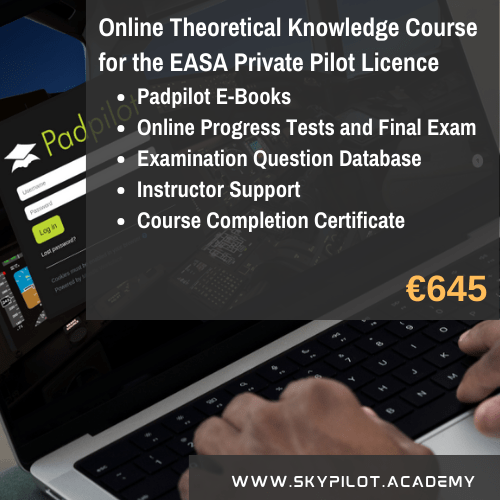 Online Theoretical Knowledge Course for the EASA Private Pilot Licence
Get started now
Thank you for considering Skypilot Academy for your private pilot license written exam training. We appreciate your trust in us.
Please note that the course fee does not include any hardware needed to read Padpilot Digital Books. To access these books, you'll require an Apple device, an Android device or a computer with a web browser.
Additionally, we suggest you obtain your navigation tools from our selected providers. You should get a mechanical flight computer, a navigation plotter, and a VFR chart scale 1:500,000.
Finally, please be aware that you'll be responsible for paying the examination fees directly to the aviation authorities according to the current rates.
What is included in the course fee?
Three years of access to the e-books via the Padpilot e-Reader
When enrolled in the Skypilot Academy course, you receive three-year access to e-books through the Padpilot e-Reader, which can be used on up to three different devices, allowing for flexibility in learning. The books are written in simple English and enriched by illustrations helping you develop a better understanding of knowledge.
One-year access to the Padpilot Learning Management System
Furthermore, the course provides one-year access to the Padpilot Learning Management System, which includes progress tests and a communication platform with instructors.
One-year access to the examination question database
In addition, you will have one-year access to an examination question database used by several aviation authorities like Austro Control, Norway, and more, which can be accessed on any internet-enabled device. This tool lets you assess your exam readiness with questioning at your own pace or through timed questioning.
Instructor support throughout the course
Throughout the course, we will be available to assist you with any questions or inquiries you may have. You can reach out to us via messaging services and video conference.
Course completion certificate
Upon successful completion of the course, you will be awarded a course completion certificate. This certificate will allow you to apply for the written examination with the aviation authorities.
To get started, please click the button to proceed with the payment. This will take you to PayPal's secure payment page, where you can select your preferred payment method.
After you've successfully completed your payment, you will receive an email from us with a link to a secure form. Please use this form to fill in your personal details so we can enrol you in the course. We're excited to have you join us, and we look forward to helping you achieve your goals!
At Skypilot Academy, we pride ourselves on providing comprehensive, high-quality training to prepare you for success. Join our community of passionate aviators and let us guide you towards achieving your aviation aspirations.