Private Pilot Licence: First step towards Commercial Pilot Licence
Start your journey to becoming a pilot with Skypilot Academy's online Theoretical Knowledge Course for the Private Pilot Licence. Master the crucial foundation of theory with expertly curated content.
If you're looking to study for your private pilot license from the comfort of your own home, this course is perfect for you. It's also an ideal starting point for those aspiring to become professional pilots, as the theoretical knowledge covered in this course is what you'll encounter when starting your commercial pilot license. Having this course under your belt will give you a great head start on your journey towards a career as a professional pilot.
Start today and take a significant leap towards your pilot dream
To obtain the European Aviation Safety Agency (EASA) Private Pilot Licence, there are 5 steps you need to take.
First, you must pass a medical examination to ensure that you're fit to fly. Then, you'll need to undergo theoretical knowledge training followed by a written exam. After passing the written exam, you'll move on to practical training in the aircraft, which will conclude with a licence skill test. After successfully completing all the steps, you'll be awarded your Private Pilot Licence.
At Skypilot Academy, we're dedicated to training our students to become confident, safe and efficient pilots by providing in-depth theoretical knowledge training of the highest standard.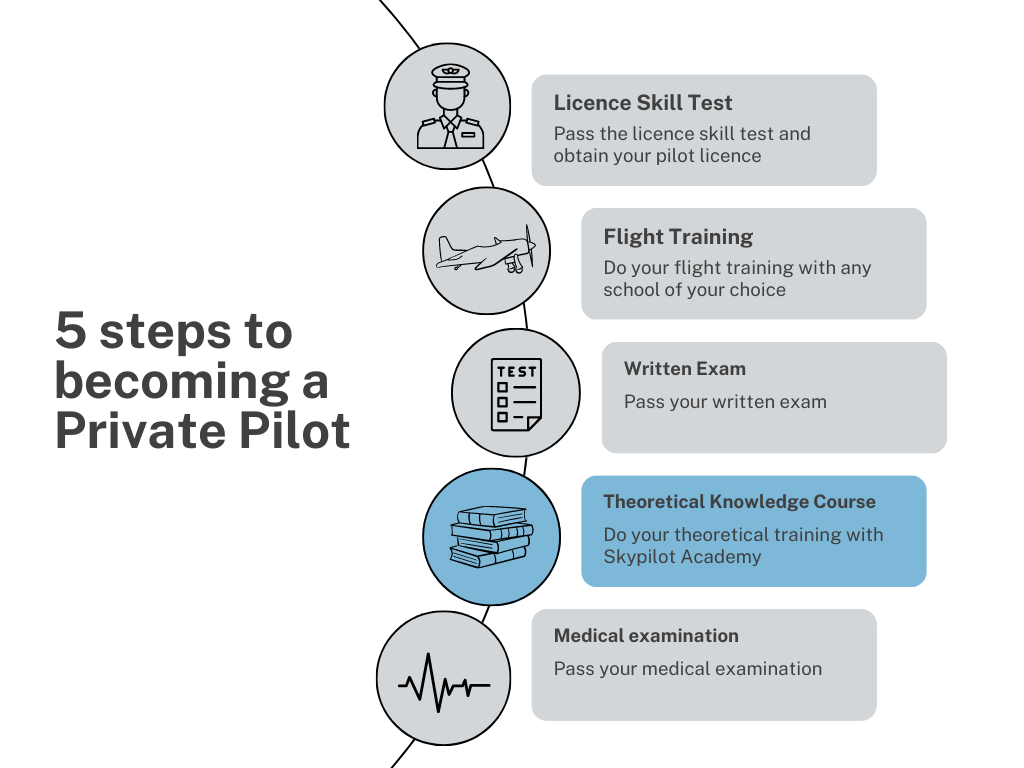 Online Theoretical Knowledge: Study from anywhere
Our online Theoretical Knowledge Course for the Private Pilot Licence covers everything you need to know to achieve your dreams of becoming a pilot. Using Padpilot's e-books, you'll receive cutting-edge knowledge and training.
With a commitment of about fifteen hours per week to your studies, you should be ready for the aviation authorities' written examination within 3 to 4 months. You can study from anywhere since the e-books can also be read offline.
It's important to note that this course is valid in any European EASA member state. Upon passing the final exam, you'll receive a course Completion Certificate that permits you to register for an exam with the competent aviation authority.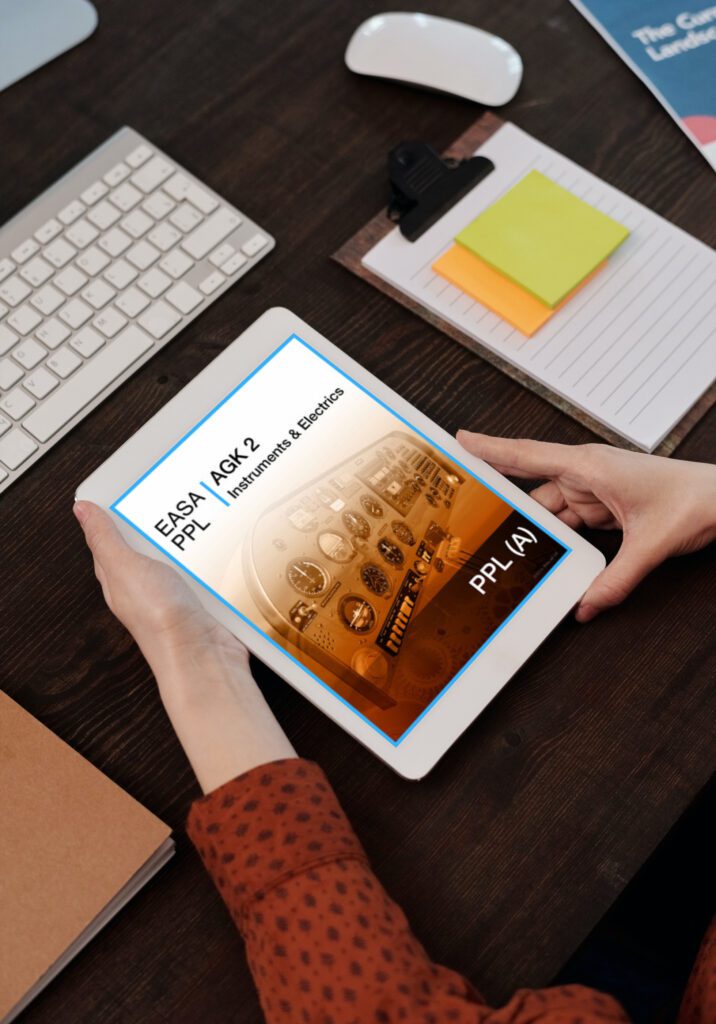 Padpilot's PPL(A) Books: Your Guide to Aviation Theory
Prepare for your Private Pilot Licence theory exams with Padpilot's PPL(A) books. These books comply fully with the EASA syllabus and are perfect for beginners who want to learn about aviation theory.
You have complete control over your progress through the Padpilot user-friendly internet-based learning management portal. Inside the portal, each subject is accompanied by progress tests that allow you to assess your understanding and track your advancement.
The theoretical syllabus consists of Air law, Human Performance, Meteorology, Communications, Navigation, Principles of flight, Operational procedures, Flight performance and planning, and Aircraft general knowledge.
EASA is currently involved in the standardization of language proficiency tests and encouraging aspiring pilots to adopt English at an early stage. This move aims to enhance safety and improve job prospects within the aviation industry. Taking our course will be beneficial in this regard as all the materials are presented in English.
EASA Member States: Flexibility in Training and Licensing
Pilot licenses issued in one EASA member state are valid in all other member states. The training required for a licence can be completed in different member states, providing flexibility in the process.
You can receive theoretical knowledge instruction in one country, practical flight training in another, and complete your examination in a third country. You can take your pilot examination in any member state, regardless of where you did your training.
Some countries may have administrative procedures that prevent them from accepting candidates from flying schools in other member states. Luckily, some aviation authorities offer examinations at distinguished flying schools around the world, and you don't have to be a student at that school to take the exam.
As of September 2021, the EASA member states were Austria, Belgium, Bulgaria, Croatia, Cyprus, Czech Republic, Denmark, Estonia, Finland, France, Germany, Greece, Hungary, Ireland, Italy, Latvia, Lithuania, Luxembourg, Malta, Netherlands, Poland, Portugal, Romania, Slovakia, Slovenia, Spain, Sweden, United Kingdom, Norway, Iceland, Liechtenstein, and Switzerland.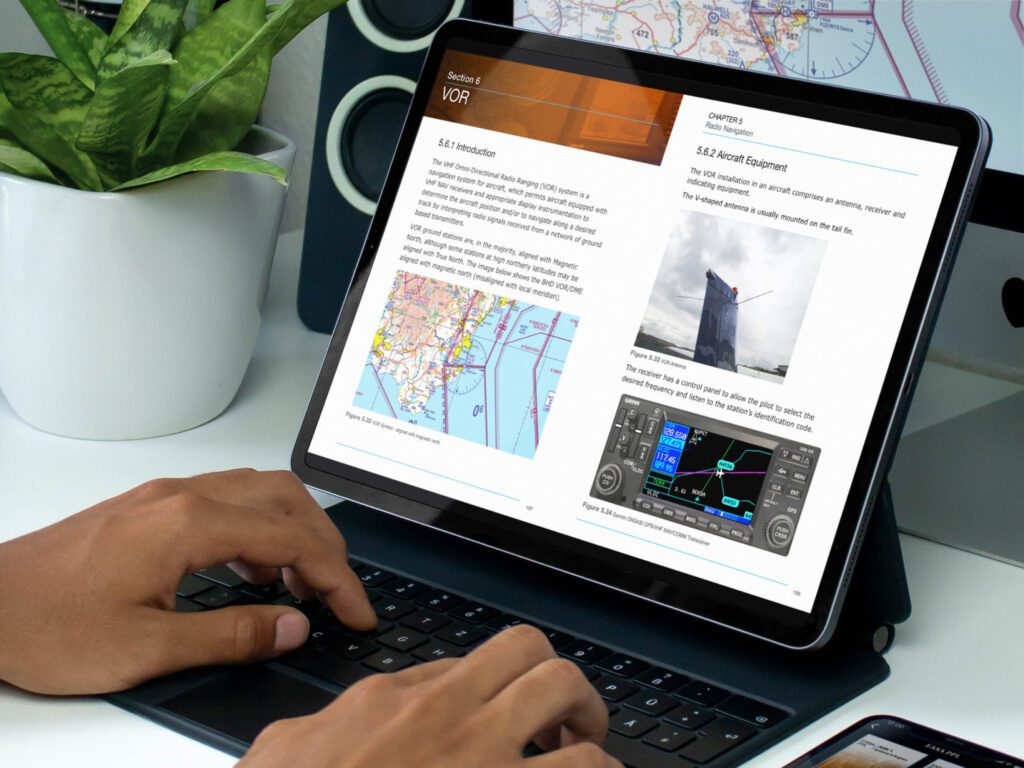 Start today and take a significant leap towards your pilot dream
Elevate Your Flying Dreams with Sky Pilot Academy's Distance Learning PPL Course Earning a pilot's license is a life-changing experience, but it doesn't have to disrupt your life to do so. Sky Pilot Academy's distance learning course for the EASA Private Pilot Licence offers the flexibility you need to fit your studies around your daily… Read…